Australian selector George Bailey told reporters he'd "love" to give spinner Mitch Swepson his Test debut at the SCG on Wednesday, but Mark Waugh believes it sends the wrong message.
With Josh Hazlewood and Jhye Richardson in a race against time to prove their fitness, Scott Boland's stunning debut, and the trio of Pat Cummins, Mitchell Starc, and Nathan Lyon, the competition for places is fierce.
A spot for Swepson would mean a bit of a shake-up.
Catch every moment of The Ashes live and ad-break free during play on Kayo. New to Kayo? Try 14-days free now.
"The obvious change with Travis Head being out is Usman Khawaja coming straight in," Brad Haddin said during Fox Sports' BBL coverage.
"But if they want to play Swepson, it might be an opportunity to bring Mitch Marsh in; he's been in great form – and then you've got two all-rounders, two fast bowlers, and two spinners.
"I know George Bailey's said in the days leading in that they'd like to give Swepson a Test match. And I'd like to see, if he does get a Test match, him play with Nathan Lyon, and just be used to knock the tail over."
Waugh, though, wasn't a fan of the potential Swepson selection.
"I'd say it would have to be a very dry pitch to play two spinners. I don't think that will happen," he said.
He added: "I don't like giving players Test matches for that reason; just to give them a Test match because we want to see what they can do. I think you've still got to earn a Test match [call-up]. I'd be thinking the Australians are going to keep the foot on the throat.
"I think they're going to pick their best team. And to me, their best team is three quicks, Cameron Green, and Nathan Lyon. I think that's our best side, best balance."
KP'S BOLD PLAN
Controversial former England batsman Kevin Pietersen has devised a bold plan to introduce a Hundred-style red-ball competition to save Test cricket amid the Ashes debacle.
Pietersen has implored the England and Wales Cricket Board (ECB) to implement proper change for the Test team by the introduction of a franchise system for red-ball cricket, modelled on The Hundred tournament.
"With the money elsewhere in the game, the (County) Championship in its current form is not fit to serve the Test team," Pietersen wrote in his Betway blog.
Scroll down for more in Ashes Daily!
NEW PODCAST – Emergency podcast: The latest on cricket's Covid drama
SUBSCRIBE IN ITUNES OR SPOTIFY
"The best players don't want to play in it, so young English players aren't learning from other greats like I did. Batters are being dismissed by average bowlers on poor wickets and the whole thing is spiralling.
"In The Hundred, the ECB have actually produced a competition with some sort of value.
"It is the best against the best, marketed properly, and the audience engaged with it. They got new people to the games and I can tell you that the players will have improved markedly for featuring alongside other greats. It's such a valuable experience.
"They now need to introduce a similar franchise competition for red-ball cricket, whereby the best play against the best every single week.
"They would make money available to attract some of the best overseas players in the world and the top English players would benefit from playing alongside them.
"It would be a marketable, exciting competition, which would drive improvement in the standard and get people back through the gates for long-form cricket."
MORE CRICKET NEWS
'BRAVE': How Marsh pick would unlock answer to question Aussie cricket 'must find out'
'STOP IT, THAT'S A JOKE': 22yo's 'feral' knock inspires Thunder win as flaw 'ruins' Strikers' season
CONTENDERS: After Head's omission, here at the players ready to take the Test number five spot
Harris rejoins squad after covid drama | 00:55
Pietersen put forward an eight-team round-robin competition played in the middle of the summer on pitches that are monitored by the ECB to avoid conditions that favour the bowlers.
"We have to have good pitches that reward and encourage strong batting techniques, batting for long periods of time and that require skill from bowlers to take wickets," he added.
"The county system doesn't necessarily need to change. It can be the feeder system below this competition, where players are developed until they're ready to step up.
"I can promise you that the current England team and lots of the best youngsters in the system still see Test cricket, in particular Ashes cricket, as the pinnacle.
"But the world's best players are involved in the IPL, the PSL, the Big Bash, The Hundred, and so on, so it's no good denying them the chance to make their millions anymore, as I was back in the day.
"We need to produce lucrative, high-quality, interesting competitions that reward and improve the best players. This could be one."
Pieterson was also reluctant to put any of the blame for England's catastrophic Ashes campaign at the feet of captain Joe Root.
"There is no point blaming Joe Root for what has happened in Australia," Pietersen said.
"He's the only class batter in that team and has been tasked with leading an underprepared, low-quality team into an Ashes series. It was a hopeless task.
"Things aren't going to change by plucking the next batter from county cricket and sticking him up to open the batting. It's failed too many times now.
"This franchise competition would be a fantastic opportunity to improve the standard of red-ball cricket, make domestic cricket interesting to the masses again (like they did with The Hundred) and I'm sure commercially, in terms of sponsorships and broadcast rights, it would be good news, too."
COVID BOOST FOR SYDNEY TEST
Cricket Australia said on Saturday that all squad members and support staff had received negative Covid-19 results after testing on Friday.
Travis Head tested positive this week and was ruled out of the Sydney Test.
That sparked fresh concerns of cases spreading throughout the Australia camp, but CA confirmed that is yet to happen — although one test remains outstanding.
"All Australian squad members and support staff have received negative Covid-19 results from yesterday's testing," CA said in the statement.
"The result of one family member is outstanding.
"Given the long wait times currently there is no time frame for that result to be returned."
CA puts Langer contract talks on hold | 01:14
PLAYERS IN LANGER REVOLT GRANTED POWER OVER FUTURE
The Australian players and support staff who were part of a mutiny against coach Justin Langer will have input when Cricket Australia decides whether to renew his contract.
The Sydney Morning Herald reported Cricket Australia's head of high performance Ben Oliver revealed there would be consultation with players and staff about a possible new deal for Langer when his contract expires in June.
"We always seek feedback from players and staff," Oliver told The Sydney Morning Herald.
"We're about trying to get better. And that goes for our coaching staff. It goes through our players and everyone who's around the team.
"So we'll do that as a matter of course, after the [Ashes] series is completed, and the players' feedback on a range of factors, including how we best support them, will be considered in that process."
It is unknown who between Oliver, CEO Nick Hockley and the Cricket Australia Board will make the ultimate call on Langer's future.
However Oliver revealed the player input four months ago had a positive effect on the squad, who have since won the Twenty20 World Cup and are on track for a 5-0 Ashes whitewash.
"Those conversations were really constructive at the time and great credit to the players, the player leaders were able to provide some feedback that was really constructive," Oliver said.
"Justin embraced those conversations and ultimately, we've created, and he's helped create, along with the other support staff and the player leaders an environment where the team has been able to perform incredibly well.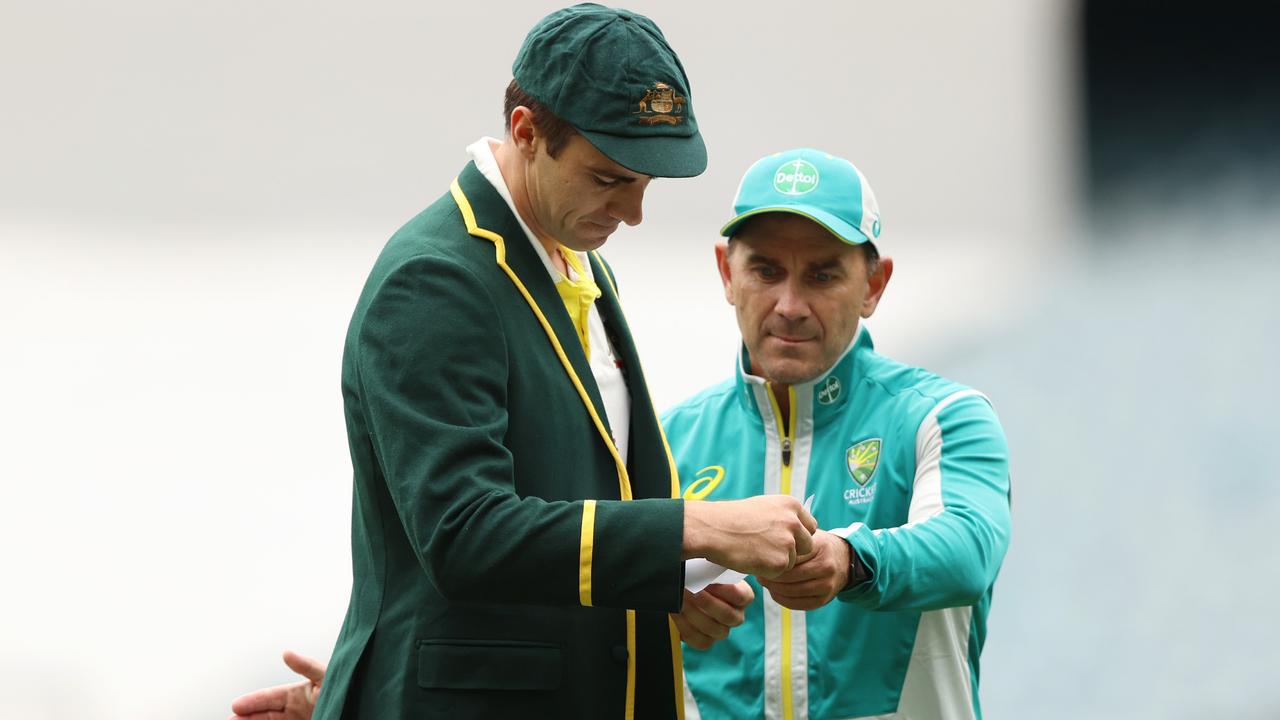 "And enjoy a World Cup campaign and enjoy an Ashes series and hopefully that's also brought some joy to all of the Australians around the country."
The player intervention was led by then Test captain Tim Paine, One Day International and Twenty20 skipper Aaron Finch and new Test skipper Pat Cummins.
The players are understood to have been worn down by Langer's intense and volatile approach and they were disappointed when prior to the meeting, CA released a statement backing Langer.
After Cricket Australia failed to act on the concerns raised by the players, Paine, Finch and Cummins each went to Langer individually.
The result of those meeting saw Langer defer to his assistants Andrew McDonald, Michael Di Venuto and Jeff Vaughan more, while reigning in his own input.
Cummins failed to publicly back Langer when asked after the Boxing Day Test about his coach's future.
"I think we'll savour this victory today and continue the Ashes," Cummins said.
"I don't think today is the day to speculate on that. We'll all sit down together after this series or whenever his tenure is up.
Get all the latest cricket news, highlights and analysis delivered straight to your inbox with Fox Sports Sportmail. Sign up now!!!
Head OUT of Sydney Test after positive | 02:44
"His contract is up for renewal in a few months, and we'll deal with that then."
Oliver echoed Cummins' sentiments in revealing discussions on Langer's future would wait until after the Ashes series is complete with a busy schedule coming up for the team.
"We haven't set a specific timeline on that [Langer's contract negotiations], we'll work through the conversations and manage that as we need to," Oliver said.
"The international cricket schedule is ongoing."
Australia have a ODI series against New Zealand and Sri Lanka in February and a tour of Pakistan in March that clashes with a Twenty20 tour of New Zealand.
Oliver revealed it would be unlikely CA would split the roles between short format and Test coach.
"Our approach has been to create a team of staff that sit around the players and support them, with that group bringing a set of complementary skills and experiences that support the players across all three formats," he said.
"The international cricket schedule is demanding. There's no doubt about that. But certainly, our approach has been a sort of collective team approach in terms of the support that we provide the players."
Watch every game of the KFC Big Bash League Live & On-Demand on Kayo or catch up for FREE with minis on Kayo Freebies. Join Kayo Now >
O'Keefe: You have to pick Swepson! | 01:34
ATHERTON BACKS STOKES TO REPLACE ROOT AS CAPTAIN
Former England skipper Michael Atherton has backed Ben Stokes to replace under siege skipper Joe Root.
Root's captaincy has come under fire in the wake of his team losing the Ashes series in less than 12 days of mediocre Test cricket.
"There have been so many errors here, from selection to strategy, that the captain has to bear personal responsibility… This could have been a much closer series had Root got things right on the field," Atherton wrote in The Times.
"Root has been a good England captain, and has always carried himself superbly and is an incredible ambassador for the sport, but having done the job for five years and having had three cracks at the Ashes, including two awful campaigns in Australia, it is time for someone else to have a go.
"Ben Stokes is a viable alternative, having done an excellent job as a stand-in briefly in the summer. His bowling is starting to wind down, and, as he may not get into England's best T20 side now, he can be given a breather during those matches."
Atherton also believes Chris Silverwood was out of his depth in the England coaching role.
"At the moment there seems to be an absence of authority and an unwillingness to challenge the players," he said.
"There is no way Silverwood will (or should) survive the Ashes, which should allow a reorganisation of the coaching and selecting responsibilities."