Afghanistan spin sensation Rashid Khan farewelled the Big Bash season in sublime style on Wednesday night, claiming a rare 'team hat-trick' on his milestone 300th professional T20 game – and twice nearly bagging a hat-trick of his own.
Khan became just the third man to claim a BBL six-wicket haul with the remarkable figures of 6/17 off four overs as the Adelaide Strikers leapt from bottom on the ladder to fifth place following just their third victory of the campaign.
The 23-year-old had earlier been dismissed in bizarre fashion by his international teammate Mujeeb ur Rahman, with the pair set to leave the BBL for international duty following the clash between Khan's Strikers and Mujeeb's Brisbane Heat.
But Khan got his own back – and then some – by dismissing his countryman and skittling the rest of the Heat for just 90 runs in reply to Adelaide's 4-161.
Khan was whacked for 11 runs in his first over, but captain Peter Siddle backed his bowler and was immediately rewarded for his decision to keep Khan on with a 'team' hat-trick (where a run-out is one of the three dismissals, since a run-out is not credited to the bowler's figures).
Watch every game of the KFC Big Bash League Live & On-Demand on Kayo or catch up for FREE with minis on Kayo Freebies. Join Kayo Now >
Strikers, Khan combine for team HATTY! | 01:51
First, Heat keeper Lachlan Pfeffer ran himself out when he edged the ball to Siddle at cover and set off on a desperate single – only to be sent back by Ben Duckett once he was more than halfway down the pitch.
Brad Haddin said of Pfeffer's desperation to get off strike: "He thought the best place for him was up the other end. He just forgot about his partner there."
Brett Lee added: "Not even in the picture there, he's out by four furlongs."
Khan next had Sam Heazlett nicking off a wrong-un, well caught by Strikers keeper Harry Nielsen behind the stumps. And one ball later he clean bowled Jake Lehmann to make it three wickets in as many balls.
Khan failed to convert the team hat-trick into an individual hat-trick when Xavier Bartlett denied the next ball.
Khan cops brutal deflection | 00:50
But the disappointment was brief. Khan added another in his next over when Will Prestwidge was caught for a duck on the boundary rope. In Khan's fourth and final over, he bowled Matthew Kuhnemann for one with a deadly wrong-un. Then Rahman – who had bowled Khan in the first innings with a hugely fortunate deflection – walked to the crease. He tried to smash Khan's ball over cow corner, but only found the fielder on the rope.
That handed Khan another opportunity for a hat-trick.
Brad Haddin said: "Can you write a better script than this? Rashid Khan, They're nine down here the Heat, he leaves tomorrow to go play for his country. Can he finish with six wickets and a hat-trick?"
He could not achieve the hat-trick, but on the next ball he had Liam Guthrie out for a duck caught at first slip by a sensational grab from Matt Short.
Brett Lee said: "That's an absolute speccy … It's an absolute screamer!"
Khan's 6-17 beat his previous best figures in all competitions of 5-3 against Ireland, and took him to a competition-leading 20 wickets in the BBL11 from just 11 games.
It was the third-best figures in Big Bash history, behind Lasith Malinga's 6-7 in 2012
and Ish Sodhi's 6-11 in 2017.
Khan also became the first bowler to take 15 or more wickets in each of his first 5 Big Bash seasons, a remarkable effort for such a young bowler.
Brett Lee could only say: "I'm speechless. He's just such a superstar."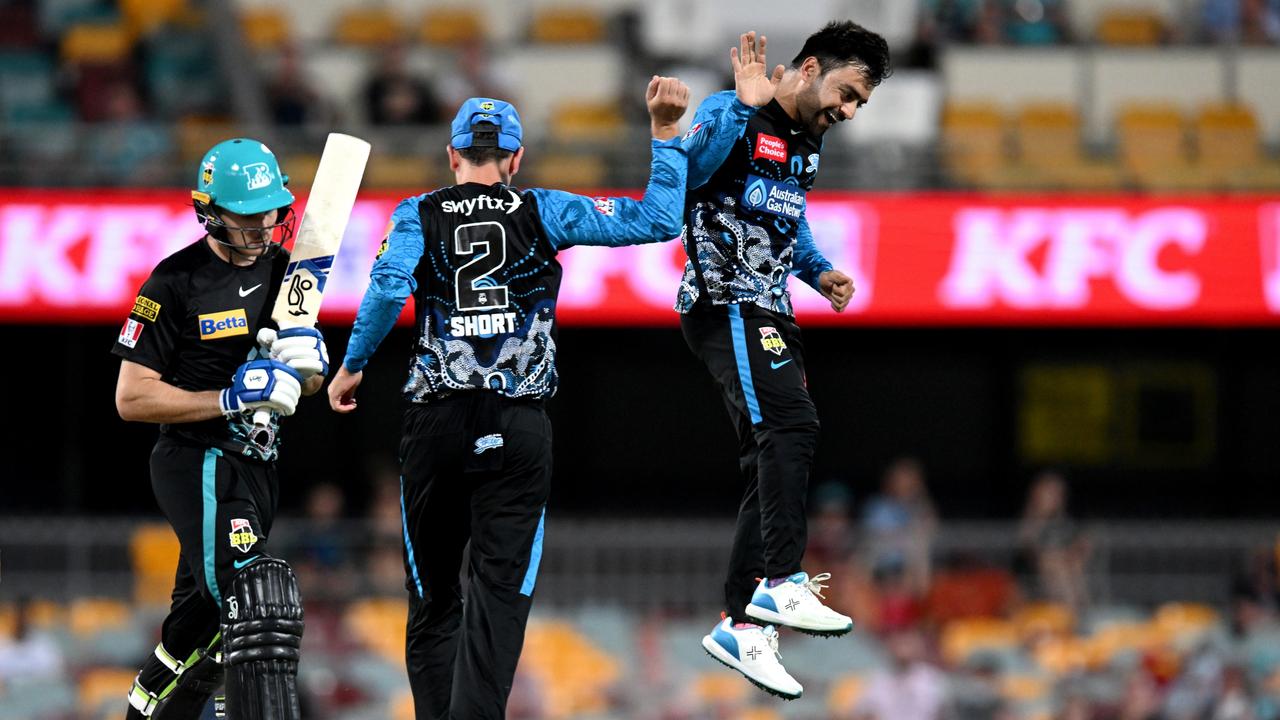 Khan told Fox Cricket: "I think this format is all about enjoying yourself, your skills inside, giving 100% and just keep smiling. That's something which gives me extra energy inside.
"I really don't worry about the result a lot, if it comes my way or the other way I'm pretty happy.
"My process remains the same – I keep smiling and keep going – and I think that's how the success comes. I mainly focus on that."
KHAN'S BIZARRE BOWLING
Khan wasn't just on fire with the ball in hand, but also with the bat, hitting his first two deliveries for six after entering the game during the power surge.
Haddin said: "Rashid Khan only knows one way, that's nought to 100 real quick!"
But he came undone as he backed away towards his leg side to give room to swing against fellow Afghanistan spin star Mujeeb ur Rahman. But Mujeeb bowled it at his countryman, and it deflected off his leg and back onto the stumps – nearly a metre away from Khan's body!
Speed said: "Rashid Khan can't believe it, Mujeeb wants to burst out laughing! They'll talk about that one on the plane."
Brett Lee said: "I can't believe it, it's almost bounced square. Normally a deflection goes down the fence for four."
Khan finished with 14 off four balls, but joked after the match that getting the wicket of his international teammate will make their travel to Afghanistan's upcoming series with the Netherlands that much more enjoyable.
"We have the same flight. That is something which I was worried about before (when) he got me out, the whole way he'd be telling me 'I got you out'. But I got him as well. I've taken revenge so it's the same on both sides," he joked.
The Heat's chase got off to a horror start when Nathan McSweeney top-edged a sweep in the first over and the opener was caught by Harry Conway off Matthew Short's bowling.
Things got worse in the third over when debutant quick Henry Thornton bowled captain Chris Lynn with a 143 km/h brute. Lynn's departure for seven left the Heat 2/17.
They rebounded thanks to Pfeffer (23) and Duckett (24) which took the Heat to 2/62. But things quickly fell apart as Khan ran riot, with the Heat losing eight wickets for 28 runs.
SHORT COPS 'BUCK'S PARTY' PUNISHMENT
Heat youngster Will Prestwidge made the first breakthrough of the first innings with his third BBL wicket in as many appearances.
Gifted quick Prestwidge had Matt Short caught behind for 27 off 19, but not before Short was twice hit by fielders throwing the ball at the stumps.
Fox Cricket commentator Brenton Speed said: "He's in the firing line tonight, Matt Short. He's battered and bruised – not from what the bowlers are doing but the fieldsmen."
Brett Lee said: "That's gonna sting … That's gonna be painful."
He added: "He's like a pinball machine! … He's like the Buck that runs across at a paintball at a Buck's Day, you just get picked off for fun!"
Speed added: "That's missing the stumps by a couple of metres!
After a patient 50-run partnership with Jake Weatherald, Henry Hunt (25 off 26) fell in the 12th over as an extremely slow ball from Matt Kuhnemann clipped the top of his off stump.
Brett Lee said: "It went so slow it looked like he almost could have hit it twice … He can't believe he's been rissoled!" It left the Strikers 2/85.
Weatherald made it to 35 off 31 when he was caught by Jake Lehmann in the deep, one ball after smashing Prestwidge for his first six of the night. Brenton Speed roared: "Six and out for Weatherald!"
"Threw his wicket away," Brett Lee declared, with the Strikers' all-time BBL top scorer Weatherald wasting the opportunity to take the Power Surge alongside fellow big-hitter Wells.
"He'll be kicking himself once he got back to the changeroom," Brad Haddin added.
KUHNEMANN IN TROUBLE
Matt Kuhnemann could be facing a talking-to from Brisbane captain Chris Lynn in the changerooms after spoiling an easy catch for his returning captain.
Thomas Kelly tried to hit a second consecutive six against Kuhnemann to start the 19th over, but top-edged it straight up in the air towards cover. Lynn called for the catch, but was called off by Kuhnemann – only for the bowler to completely fumble the drop.
Brett Lee said: "He can't believe it … No one else to blame other than himself."
"You better get a wicket bro," microphones on the field picked up a Heat player (believed to be Lynn) telling Kuhnemann after the drop.
Jonathan Wells finished with 23* off 24 and Kelly 24* off 16 as the Strikers completed their 20 overs 6-141.
TEAM NEWS
The desperate Heat had to call on a raft of last-minute replacement players for their last two games – both losses – after a huge Covid-19 outbreak in the squad, but welcomed six of their best players back in action.
Heat players Xavier Bartlett, Ben Duckett, Liam Guthrie, Matthew Kuhnemann, Chris Lynn, and Nathan McSweeney were all cleared to return to action after spending a week in isolation since testing positive to COVID-19.
Bartlett told Fox Cricket: "I'm just like a little kid at Christmas again, to be back out there."
He added that he stayed fit in isolation thanks to: "Lots of backyard cricket to be honest. Nathan McSweeney and Matt Kuhnemann, we all stayed together. So (we played) lots of backyard cricket!"
Max Bryant, Mark Steketee and Jack Wildermuth also returned to the 18-man squad for the clash, but were not named in the starting XI.
But the Heat were still without captain Jimmy Peirson, while the club also stated that some players and staff – including coach Wade Seccombe – were not yet cleared to return, or were still displaying symptoms.
The Heat were also without Pakistan batter Fakhar Zaman who is unable to enter Queensland due to border restrictions.
'Should be riding at Doomben': Pint-size schoolteacher's BBL fairytale
Starc determined to play in Hobart Test | 01:12
MATCH CENTRE: Full stats and scoreboards